December 4, 2019
Buying a house can be a daunting prospect, with so much to consider. You may fall in love with a property as soon as you step through the door, but it's important to remember that you're buying with your head, not your heart.
Approaching it calmly and methodically will ensure that you purchase a house or a flat that becomes a happy home. To help you get the most out of your viewing, here are some essential questions to ask when viewing a house.
Essential Information
If you're considering buying a new home, here are the essential questions you need to ask about the property and the local area:
Is the house Freehold or Leasehold?
Are there any outbuildings or additional storage space?
Is there a garage or off-road parking?
Do I (or any visitors) need a parking permit?
Are there communal areas?
Is there a service charge?
Is the building listed?
Is any work being planned on the property now or in the future?
What services does the property have (gas, electricity, broadband)?
What is the Council Tax band?
Safety
It's important that you and your family need to feel safe and protected in your new home. Get answers to these key building safety questions and you should have confidence that your house is safe and sound. Here's what you'll need to ask:
Has any building work (loft conversions, extensions) been signed off? Is it all authorised and regulated?
When was the boiler serviced?
Is there a burglar alarm?
Is double glazing fitted?
Do you have all the keys for all the doors, windows and outbuildings?
Who has responsibility for the maintenance of all boundary walls and fences?
Building Condition
If you're applying for a mortgage, you'll need to get a survey completed which should pick up on any significant structural issues, but it's up to you to check the general condition of the property. Here are some crucial building condition questions you need to ask:
In every room check:
Do all switches and sockets work?
Is there any visual damp or damp smell?
Are there any stains on the wall?
Are here any crack in the walls?
What's the condition of the decor?
Do all doors and windows open and close properly?
What storage is built-in?
Do the fireplaces work?
Kitchen & Bathroom:
Do all taps work?
What kitchen appliances are included in the sale?
Exterior Condition:
Is the brickwork in good condition?
Can you see any cracks?
Is the rendering down properly?
Is the chimney stack well maintained?
If the house has been re-pointed, when?
Is the roof in good condition?
Can you see any missing tiles?
Is the guttering all present and well fitted?
Are the fascia boards all clean, well fitted and functional?
Is there a garden? If so, what is its condition?
Are the boundary fences or walls all fixed and in good condition?
About The Sellers
Your estate agent can pose any questions you have to the vendors. It can be useful to know a little about them and their experiences in your potential new home. You could ask:
How long have they lived here?
Why are they looking to sell?
Is there a chain?
If so, has the vendor found a new property and had an offer agreed?
When was the property first listed?
Have any offers been made and rejected?
Has the house been listed on the market before?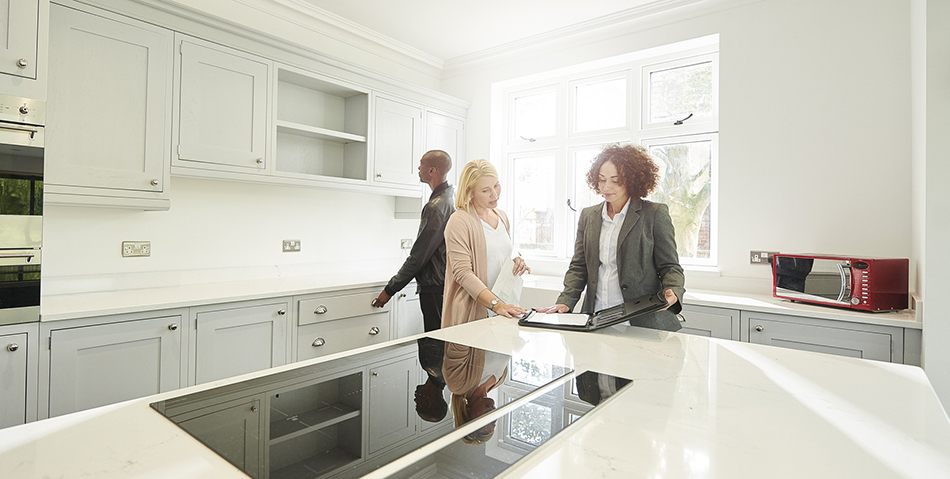 Tips For Your Viewing
When you're viewing a property, the first piece of advice is to take your time. First-time buyers can often spend less time looking at a new flat or house than they do choosing a pair of jeans or test-driving a new car. Remember, you're the one with the power here – and the one who will be responsible for paying the mortgage!
Talking about mortgages, before viewing any properties you should speak to a mortgage adviser. They can advise you of the amount you may be able to borrow before you go to view a property. Choose a whole of market broker, as they will have access to the widest range of lenders and the best deals. The estate agent will ask you whether you have finance secured. You don't need to have applied for a mortgage yet, but a quick chat with a mortgage specialist will clarify what you can borrow and what you can afford. It may be more than you think!
When visiting any property, your estate agent will be happy to answer any questions you ask them. If they don't have the answers, they can ask the seller for them. It's all part of the service.
While you may fall in love straight away, we recommend all potential buyers should view a property at least twice. If the property you're buying needs some work, then It's a good idea to take someone else with you to any second, or subsequent viewings. If you've got specific questions, about the condition of a property or are planning any renovations, it's worth asking a qualified tradesperson to accompany you, if possible. They may spot any issues that you could have missed.
Most of us carry a mobile phone with a camera. Use it to take pictures of the property, capturing anything you feel is important or may be useful.. If you spot any issues or potential problems or want a second opinion from a tradesperson or architect, having a selection of images can really help you. They're also great to look at once the offer has been made and you start to think about new furniture.
It's worth visiting at different times of the day. Check out the area in the day, in the evening and over the weekend to get a feel for the location. We also recommend that, if you're moving somewhere new, you spend some time in the location. Visit the shops, have a drink at a local pub or cafe to get a feel for the area and its people.
Buying a new home is fun, but it's also hard work. The more time you spend investigating the property, the more confident you will be in your purchase and the happier you will be in your new home.