November 1, 2021
Are you looking to buy a new build? You're not alone. Almost 250,000 new build homes were built in 2019-20, and the market shows no signs of slowing down. In this article, we cover everything potential buyers need to know about the process of buying a new-build house.
We break down the process into simple steps and answer some commonly asked questions about buying a new build house.
Buying a new build house – the process explained
The process for buying a new build house is the same as buying any other type of property. We've listed the steps below:
Find somewhere you want to buy

Agree a mortgage in principle

Make an offer

Complete property searches & surveys (a snagging survey as opposed to a structural survey)

Kick off the conveyancing process

Get a property valuation

Exchange & completion
There are some significant benefits to buying a new build property. If buying off-plan, you can work with the developer and tailor the property (within limits) to your requirements. 
Because the building is new, you won't typically need a structural survey. In most cases, you'll be buying directly from the developer, which means no chain.
How do I get a mortgage on a new build?
Getting a mortgage on a new build is the same process as getting a mortgage on any property. You'll need to identify a suitable lender (or speak to a mortgage broker) and apply. To qualify for a mortgage, you'll need to meet their criteria, including having a suitable deposit, earning enough to afford repayments and having a good credit history.
Want to know more about getting a mortgage? Read our top tips for getting a mortgage.
Do you pay stamp duty on a new build?
Stamp duty land tax is payable on all property purchases over £125,000. There is no exemption on stamp duty for new builds (although the stamp duty rules regularly change). 
The current stamp duty rates for residential properties are below:
| | |
| --- | --- |
| Property purchase price | Stamp duty % |
| £0 to £125,000 | 0% |
| £125,001 to £250,000 | 2% |
| £250,001 to £925,000 | 5% |
| £925,001 to £1,500,000 | 10% |
| Over £1,500,000 | 12% |
The rate of stamp duty and the rules around payment can regularly change. To get the most accurate figures, you can use the Government's Stamp Duty Calculator to see how much you'll need to pay.
Is 'Help to Buy' only for new builds?
Yes, you can only use the Government's Help to Buy: Equity Loan scheme to purchase a new build home.
Only open to first-time buyers, those who qualify for the scheme need to find a 5% deposit. The Government will lend you up to 20% of the total value as an equity loan, which must be paid back within 25 years (or if you sell your home, whichever comes first).
More people than ever are using the Government's Help to Buy scheme to access the finance they need to purchase a home. As well as the Help to Buy scheme for first-time buyers, the Government currently offers a range of other financial support for homebuyers, including:
The mortgage guarantee scheme

Shared Ownership schemes

Right to Buy
Check out the Own Your Own Homesite to learn more about the various support schemes available to home buyers.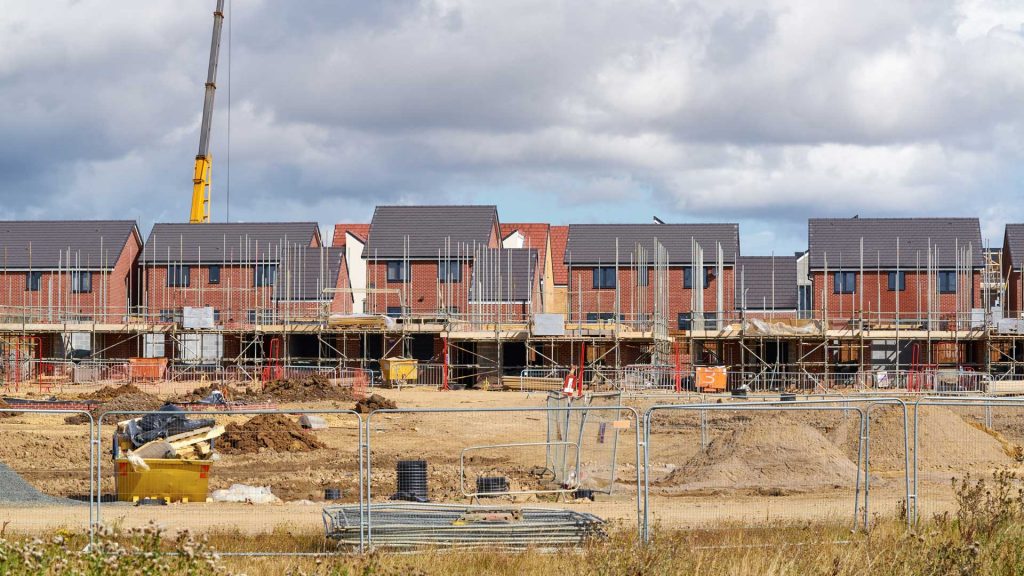 When do you pay a deposit on a new build house?
You pay the deposit on a new build house when you exchange contracts. It's the same process as purchasing any property. 
The deposit (typically 5-30%, depending on whether you're taking advantage of the Help to Buy scheme) is paid directly to the housebuilder and secures your property. Exchange of contracts typically takes between seven and 28 days before completion. 
The lack of a chain means that timelines for buying a new home are often easier to manage (although delays can, and often do, occur).
Do you need a survey on a new build?
You don't need to perform a building or structural survey or homebuyers report or condition report on a new build. However, we recommend that you pay for what's called a snagging survey.
A qualified surveyor (often from the Royal Institute of Chartered Surveyors) will check your property and identify any cosmetic and structural defects during a snagging survey. 
Expect to pay between £300 – £600 for a snagging survey. While it may be tempting to save money on a survey, it could be a false economy. Research has found that 34% of new build home buyers had experienced more problems than expected with their property.
How long can you reserve a new build for?
You may be asked to pay a reservation fee to secure the property after viewing a show home. This reserves the property for 28 days and lets you kick off the home buying process outlined above. 
The reservation fee is taken off the final sale price. However, be aware that most reservation fees are non-refundable. That means the money is lost if you aren't able to complete the purchase for any reason.
Do all new builds have management charges?
Many new builds come with management fees and charges to cover the costs of managing communal areas (such as gardens) and delivering shared services in a shared block of flats or a housing estate. The Homeowners Alliance has written about issues with service charges and provides some helpful information on protecting yourself. 
Before making an offer on any new build property, be sure to investigate any service charges you may be liable to pay. Service charges are likely to be written into your deeds, which means you can not avoid paying them. 
While most management companies are fair, there have been reports of sky-high service charges that have affected home buyers.
Management charges are in addition to other fees you must pay, such as ground rent and council tax.
How long does it take to buy a new build house?
There's no standard timeframe for purchasing a new-build property. It depends on the development, the developer and how quickly you can access finance and complete the conveyancing process. 
If you buy "off-plan" at an early stage of a large development, you may have to wait years to move into your new home. On the other hand, if you're buying a home that's nearly completed, there may be few – if any – delays.
Most property purchases take between three to six months from offer to moving date. We've provided a detailed breakdown of the purchase process, including timeframes, in our detailed article on how long it takes to buy a house.
Interested in buying a new build?
At Simon Blyth, we're always happy to answer any questions you have about buying a new build property.
As well as impartial and expert advice, we can connect you with a range of specialists that can support you through the purchase process, including mortgage brokers and conveyancing solicitors. Contact us today if you need our help.