June 9, 2021
Selling a house at auction is increasingly popular. The property is exposed to the market, with the highest bidder taking the prize, and the seller receiving the hammer price (minus any fees).
Auctions are simple and straightforward, with the buyer that offers the best price securing the property. 
Most sellers are familiar with the traditional property auction, where a home goes under the hammer, but it's not the only option. In a competitive market where popular properties can commend significant interest, sellers are choosing to use a modern method of auction where online auctions last for up to 56 days.
In this in-depth article we provide a detailed and comprehensive guide to selling your property at auction.
Why sell a property at auction?
Selling a property at auction is faster and in many cases more convenient than selling in the conventional way. The popularity of property auctions has increased dramatically in recent years, with bargain hunters, property developers and cash-buyers hoping to pick up the right property at a knock-down price.
Traditionally, auction properties were those that needed to be sold quickly, those in poor condition, those with short leases or properties that may not be suitable for a mortgage. Today, you're likely to find a whole range of properties for sale, including houses, flats and commercial buildings. 
To get an idea of what's available, you can view our properties for sale through auction on our dedicated iamsold platform, the largest residential auctioneer in the UK, that helps us to deliver bespoke online or live auction events. On the platform you can view both traditional and modern method of auction properties that we have for sale.
Selling a property at auction is straightforward and simple. Before bidding, buyers are vetted to ensure they have the necessary finance in place to complete a transaction. As a seller, when the hammer comes down, the price the property reaches is what you'll get (minus any fees you're required to pay). Bids made are legally binding and enforceable by law.
In addition to the traditional method of auction, sellers and estate agents can choose to sell through a modern method of auction. This is similar to the traditional methods of sale with buyers competing against one another, with the highest bidder winning, but there are some key differences which we explore below.
What are the auction selling methods?
There are two ways of selling your house or property at action: the traditional method of auction and the modern method of action. Here's what they are and how they differ.
Traditional method of auction
A traditional property auction is a live event that takes place at an auction house with an auctioneer. Buyers will have registered in advance and will place bids. Auctions can be vibrant and exciting, particularly when buyers enter a bidding war and rapidly push up the price. 
When the hammer falls, the deal is done.
The buyer will make a payment of 10% and the exchange of contracts can take place straight away. The remaining 90% of funds are transferred within 28 days and completion happens immediately.
Buyers have limited time to inspect a property, with viewings scheduled prior to bidding. A winning bid is a legal contract, which means the buyer has to follow through with a purchase. The need to complete quickly means that most (but not all) auction purchases are made by cash buyers and investors. 
Modern method of auction
The modern method of auction is a relatively new approach to selling that brings together elements of private treaty and traditional auction. It's more accessible and in some ways, less risky than the traditional method of action. The auction period lasts for longer too, which can increase interest and maximise the sale price.
A property is listed online, with buyers given a chance to view the listing and visit should they wish. They are then invited to make a bid. Like traditional auctions, there is a cut off point. At this point, the highest bidder wins the property and is legally required to complete the sale.
However, they have 56 days to complete, which makes this method more suitable for residential buyers and those who need to secure a mortgage. Of course, if the property is right, it will still attract interest from cash buyers and investors hoping to snap up a bargain.
Before bidding, buyers pay a non-refundable reservation fee and sign a reservation form, which commits them to making the purchase.
The modern method of auction is ideally suited to properties in fast-moving and competitive markets. It can help your property to find its real market value, potentially achieving a sale price in excess of its list price.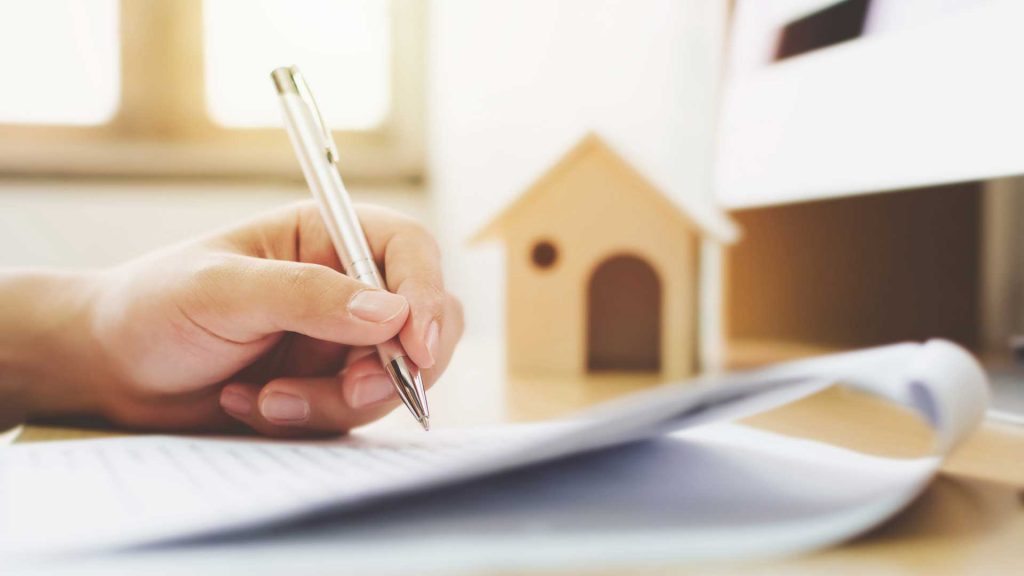 Should I sell through a traditional or modern auction?
Ultimately, the choice of auction method is down to you. Traditional auctions offer a stress-free sale with quick completion. After auction fees, you'll walk away with the hammer price. However, if there's not much interest on the day, you could achieve less than you expected.
A modern method of auction is a fairly new way to sell your property and, if demand is high, can help you achieve a sale price in excess of your minimum price. It's not as quick as a traditional method of auction, so you will need to wait for your money to arrive. 
You should always speak to an independent estate agent who can provide you with impartial advice on the most appropriate method for selling a house at auction. You can contact one of our branches and we will be able to provide you with advice and point you in the right direction.
How does selling a property at auction work?
As a seller in England and Wales, if you decide to sell your home at auction you should work with an estate agent. It all begins with a property valuation. 
If you agree to auction your property, an estate agency will market your property to potential buyers. They will create the all important legal pack that buyers will rely upon to make their bidding decisions. As well as investors and cash-buyers, they will have private clients who may be interested in your property. 
Your estate agency will provide all the support you'd receive with a normal sale, including help through the exchange and completion process. 
What are the fees for selling at auction?
There is nothing to pay to enter your property into a Simon Blyth auction.
There is an auction pack fee of £445.00 (including VAT). This is only payable by the seller if the property fails to sell at auction. 
How do I set a guide price and reserve price?
A guide price is a suggestion of the likely sale price for your home. A reserve price is a lower limit for the sale. If the hammer falls and the reserve isn't met, your property will not be sold, even if the guide price has been met and exceeded.
The estate agent and auction house will recommend a guide price and reserve price for your property. In traditional methods, auction appraisals are performed by the auction house. They will make recommendations on the guide price and reserve price. While you do not have to agree to this, they are experts in the local property market.
If you choose to sell through a modern method of auction, operated by an estate agency, you will agree to a guide price and a reserve price before the property is listed. 
In most cases, the guide price is set low. This is to encourage buyers to place a bid. In most auctions the hammer falls or the auction ends with the price far in excess of the guide price, however this is not guaranteed. 
At Simon Blyth, we've helped hundreds of homeowners achieve the right price for the property quickly. Our in-house team in cooperation with the iamsold service has supported new buyers and experienced professionals to secure the property they want. We have years of experience in the auction sale, so let us know if you need support.  
Selling with Simon Blyth
At Simon Blyth, we offer all customers four ways to sell their property, including traditional and modern auction methods, sealed bids and at a fixed price. 
If you want to sell at auction, we will manage every aspect of the sale. This includes taking pictures, preparing the particulars, registering the property for sale, and managing the completion and exchange process. Contact one of our branches and let us help you!